On November 11 each year we celebrate Veterans Day in America. It's a special day to remember all who have served in the Armed Forces. Enjoy today's Music Lesson for Veterans Day and take some time to celebrate those who worked to allow us to be free!
Armed Forces Hymns
This first video goes through all 5 of the Armed Forces with their special song or hymn. Choose your favorite and sing along with it--the words are on the screen!
Army "The Army Goes Rolling Along"
Navy "Anchors Aweigh"
Coast Guard "Semper Paratus"
Air Force "Nothing'll Stop the U.S. Air Force"
Marines "The Marines' Hymn"
In this next video, we watch a dance which tells the story of a veteran and his family.
Our last two videos are songs sung by children which give tribute to the wonderful men and women we honor on Veterans Day.
More Veterans Day Resources
If you would like some more resources to help you study Veterans Day, see the following links:
Veterans Day Book Ideas for Elementary, Middle School, and High School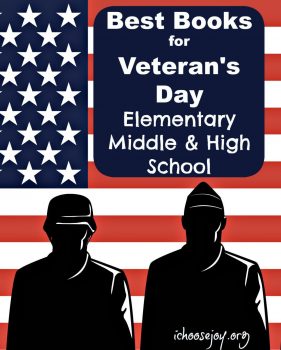 11 Days of Veterans Day Activities for Kids -- Only $3! (Download a free sample.) It's best to start it 11 school days before Veterans Day.